Johanna Jäger, specialist in general medicine and general surgery
About me
Why did I become a doctor, and why did I, as a specialist in general medicine and general surgery, choose a practice for holistic health and not work in a hospital?
I have made it my maxim to provide medical treatment that prevents the occurrence of illnesses as early as possible.
I aim to enable my patients to become more autonomous in their own medical endeavours and lead a healthy life.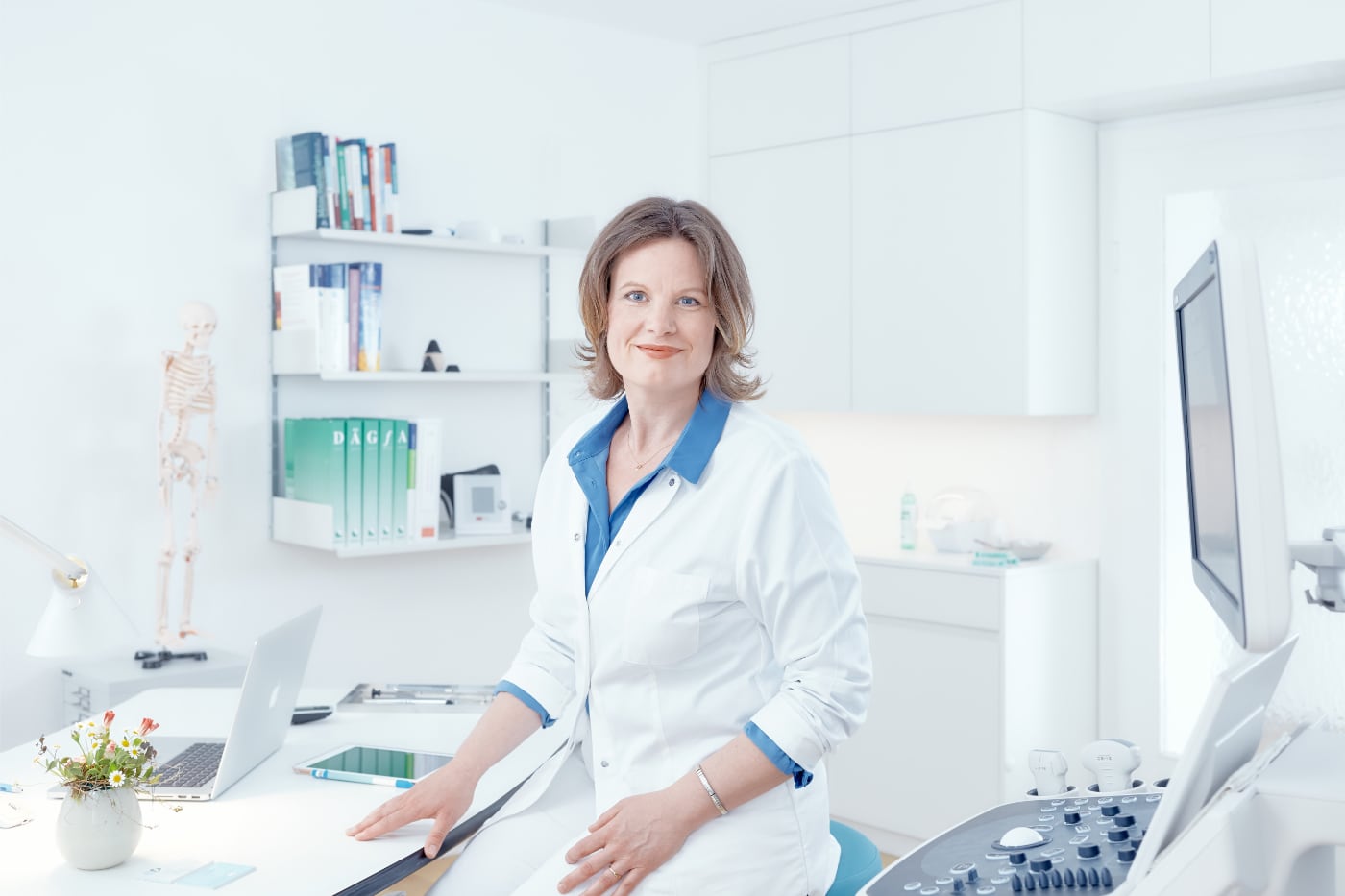 Curriculum Vitae - from surgery to holistic health, from Berlin to Frankfurt
Abitur in Frankfurt am Main
Studies of human medicine at the Charité in Berlin
> Clinical traineeship: casualty surgery, Unfallkrankenhaus Berlin
> Elective period: Internal, casualty surgery, and general surgery, Klinik am Urban, Berlin
> Elective period: paediatrics and paediatric surgery, Virchow-Klinikum, Berlin

Medical practice at Deutsche KinderUrologie Zentrum Berlin: paediatric urology, paediatric surgery, and ultrasound consultation-hour
Medical practice at the travel medicine clinic, Tropeninstitut Berlin
Advanced training in general surgery:
> General surgery, Clinic for Visceral, Vascular, and Minimally-Invasive Surgery, St. Hedwig-Krankenhaus Berlin
> General surgery, Clinic for Thorax Surgery and Visceral Surgery, Asklepiosklinik Langen near Frankfurt
> Casualty surgery, Clinic for Casualty Surgery and Orthopaedics, Hospital zum heiligen Geist, Frankfurt am Main
"Specialist in general surgery" degree in Frankfurt
Advanced training in general medicine with further training in sonography in Dietzenbach near Frankfurt
"Specialist in general medicine" degree in Frankfurt
Qualified in subject-linked genetic consultation in general medicine, internal medicine, and neurology, Fortbildungsakademie Landesärztekammer Hessen, Bad Nauheim near Frankfurt
Medical education in pain therapy developed by Liebscher & Bracht, Bad Homburg near Frankfurt
A-Diploma in acupuncture and additional training at the DÄGfA (German Medical Association for Acupuncture) in Berlin, Munich, and Bad Nauheim near Frankfurt
Basic training in intestinal health, A. Rössler, Wiesbaden near Frankfurt
Medical education in micronutrient therapy with U. Gröber, Essen
Member of the Fortbildungs-Akademie (advanced training academy) of the Landesärztekammer (Chamber of Physicians) Hessen, regularly broadening my knowledge in the fields of both general medicine as well as complementary medicine